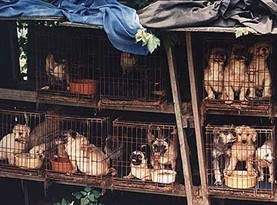 In the U.S.A, there are hundreds of commercial dog breeding operations, also known as puppy mills, where the proper healthcare and basic needs of the dogs become neglected and instead, profit for the breeder takes highest priority.
            A puppy mill is defined as "a large-scale breeding operation that produces large numbers of puppies for profit." Puppy mills are places where hundred (and sometimes thousands) of dogs are confined into wire small cages and are left in filthy, dangerous conditions without enough healthy food or water, no veterinary care, inadequate shelter, and no human contact. They spend their entire lives in these cages. The females in these kennels are repeatedly bred at least once a year, if not more, until they can no longer breed. When dogs can no longer breed, they are brutally killed. Puppy mill breeders will cut-back on veterinary care and decent food for the dogs in order to keep as much money as they can for themselves. 
            Without the proper socialization skills puppies need to make good, happy pets, they develop antisocial behavior and become emotional and financial burdens on the customers who spend thousands of dollars on a dog they know nothing about. Puppy mill dogs are not always pure bred like the breeders and sellers might claim. AKC (American Kennel Club) documents are easily falsified or not provided at all, and even if they are, they do not provide necessary information about the dog. Any dog can be licensed with the AKC and their registry does not ensure the health or genetics of the dogs. Unwanted dogs are often left at the door of over-crowded shelters and euthanized.
            The success of a puppy mill relies on unsuspecting customers who buy dogs through the Internet or from pet shops. Many people would automatically want to save the puppy they see online or in the pet shop. Buying this puppy only means that their parents, and millions like them will continue to be trapped in the hellish conditions of a puppy mill. As long as the breeders and sellers make a profit, no matter what the buyer's motivation, the torture of the dogs will continue. 
            The only way to stop puppy mills is through adoption from community shelters and rescue groups. When sales of dogs from the Internet and pet stores drop, the demand for them decreases and eventually puts the puppy mills out of business. Adoption is the only solution to ending this problem. 
Written by Alexis Laube (one of our groomers here at "all about the DOGue" salon & spa)