Spa Menu
Basic Spa Package
 
Pawdi-cure, Ear Cleaning, Anal Gland Expression (as needed), Shampooing, Conditioning Treatment, Blueberry Facial, Complete Blow Dry, Shed-Less Brush-out Technique, Protein & Lanolin Coat Conditioner, & Cologne
$55.00 - 85.00
  (prices vary depending on breed; 
this package is designed for the short hair breed varieties- i.e.- Chihuahua, Boxer, Lab, Bulldog, etc.)
---

Premium Spa Package
 
Pawdi-cure, Ear Cleaning, Anal Gland Expression (as needed), Shampooing, Conditioning Treatment, Blueberry Facial, Complete Blow Dry, Shed-Less Brush-out Technique, Tidy-up Trimming, Protein & Lanolin Coat Conditioner, & Cologne          
 (prices vary depending on breed;
this package is designed for the feathered coat breed varieties- i.e.- Golden Retriever, Collie, Sheltie, Pomeranian, etc.)
---
Pampered Pet Stylist Spa Package
 
Pawdi-cure, Ear Cleaning, Ear Plucking (as needed), Anal Gland Expression (as needed), Pre-Bath Brush out, Shampooing, Deep Conditioning Treatment, Blueberry Facial, Complete Blow/Fluff Dry, Shed-Less Brush-out Technique, Tidy-up Trimming, Breed or Personality Precision Scissor Trimming, & Cologne
$70.00 - 180.00
(prices vary depending on breed;
this package is designed for the breed varieties requiring haircuts i.e.- Poodle, Doodle, Maltese, Shih Tzu, Yorkie, etc.)
---
a La Carte Services
Non-anesthesia Teeth Brushing-
scaling plaque and tarter, brushing w/ enzyme toothpaste, oral rinse
$18.00
Paw-dicure-
Nail trim w/ file finish
$28.00
Nail Paw-lish-
assorted colors available
$12.00
Therapeutic Mud Bath-
exfoliating mud bath for dry flaky skin
$25.00
Rough Pad Restoration Spaw-dicure-
foot soak w/ shea butter pad massage; includes nail trim
$25.00
Fun-tastic Fur Dye-
assorted colors available; book appt in advance
$25 - 85.00
Topical Flea & Tick Control / Preventative-
Frontline Plus and Advantix
$22 - 25.00
Deep Conditioning Moisture Wrap-
Hot oil treatment w/ warm towel wrap
$20 - 30.00
"Scent of the Month"
-
Bath & Aromatherapy Spritz; a new scent available every month
$4.00

New! Feather Fur Extensions-
$20.00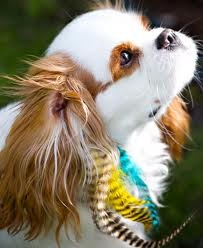 ---
Special Services
Express Grooming -
Complete grooming, available for small dogs, weekdays onlyadd to your groom package 
$15.00 
Dog Walking Service -
Half-hour potty break during grooming visit 
$10.00
---

All services includes complimentary TLC!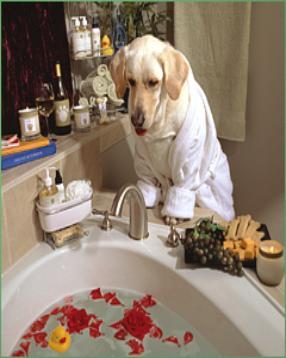 Contact us for an appointment for your pet today....

Please click here for our general referral list of pet professionals.
 


 
We accept Visa, MasterCard, Discover, Debit Cards, Checks, Cash
(No American Express)