We are seeing a rising number of skunked dogs coming into the salon for "de-skunking" treatment. Unfortunately most victims are assulted in the early evening or middle of the night. Be prepared with the following ingredience for this receipe in case this happens to your pup. Keep in mind every dog is different when it comes to the length of time it takes to rid the coat of the smell. 
1 -Quart 3% hydrogen peroxide*
1/4 cup -baking soda (sodium bicarbonate)*
1 tsp -liquid soap or dish detergent (preferably DAWN Original)* 
1 pair of latex gloves
Mix these together and bathe (shampoo in or rub down) the spray victim throughly.
Be sure to use this mixture immediately after it is created, as it is unstable*
Rinse with tap water afterward, and repeat if necessary
For spray in the eyes, flush with water as soon as possible.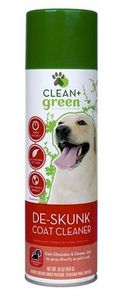 Clean + Green De-Skunk Coat Cleaner is also a great odor remover that is both safe and enviormentally friendly. 
Safe for treating the home as well as the pet!


*Skunk spray is mainly composed of low molecular weight thiol compounds. ("Thiols" are compounds with the "-SH radical" attached to a carbon atom.) In industrial applications, alkaline hydrogen peroxide (H2O2) is used for scrubbing similar compounds from waste gas streams. Hydrogen peroxide and baking soda, when combined, become a "chemical engine" for churning out oxygen. That's why it has to be used immediately after mixing. The soap breaks up the oils in the skunk spray, allowing the other ingredients to do their work.